Genre:
Young Adult, Mystery, Suspense
Release Date:
March 15th 2012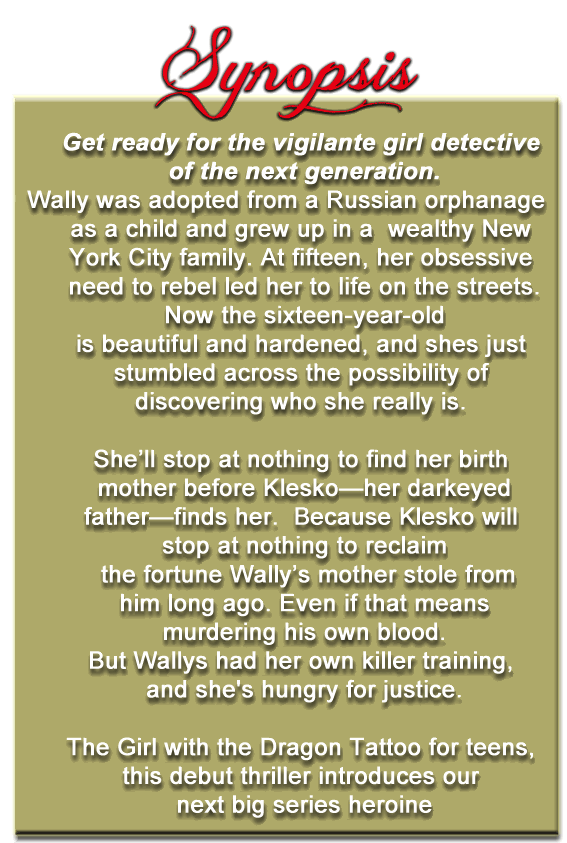 The first thing I need to say about Dark Eyes is that it isn't a normal YA book, or the type of books we are used to read in the YA section. There are no vampires or any type of mythical creature, and there isn't the typical teenager romance story either. This book is completely different and much more complicated than you can ever think.
The story is about a girl, Wally, who was born in Russia, adopted and brought to america when she was a kid. She doesn't remember anything about her past life, but of course, those memories aren't going to be lost forever. She has run away from home, she is living on the streets with some friends, and suddenly her life becomes something more complicated when she finds something about her mother, her father and her real self. Now, her life won't be the same.
Even though this book caught my attention from the very first moment I read the synopsis, I couldn't enjoy it at all. The writing style was perfect and it was easy to read, and sometimes I thought I was reading a script of an action movie. It was very detailed and very well done, but I was missing something. Maybe the characters were too plain. Maybe I didn't like Wally at all. She was a tough girl, or perhaps that is what the author wanted to show us, but I didn't see her like that. She was only a rebellious girl, a runaway. I think I would have liked her more if she didn't have a home and she needed to live in the streets and not for the lame excuse that she preferred a life on the streets than in a nice place with a family. I didn't get that and I couldn't understand her character for that simple reason.
Another thing that I didn't like about this book is that even with all that mystery and suspense, the book is quite simple, predictable and sometimes there were too many coincidences. All the information was there, always, the only thing Wally needed to do was appear in the right moment to be able to collect it. Too easy, for me. And that made me think that the story was a little bit plain and poorly elaborated.
I'm giving this book three stars. I liked it, it was a good read if you don't have anything to do, or anything more to read. I'm sure a lot of readers will agree with me, but others will think that this book is the best book that they have ever read. There's no accounting for taste.